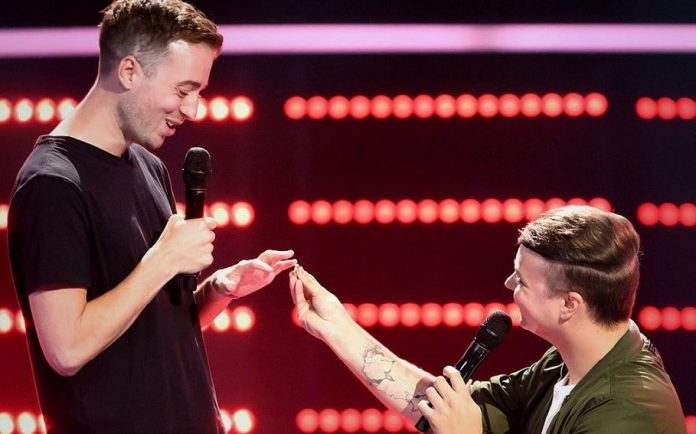 Just a few months ago, Australia legalized gay marriage and last night we got to see just how beautiful that can be
Nathan Brake, who is one of the performers of The Voice Australia 2018, took the opportunity of his time in the spotlight to propose to his boyfriend.
Nathan did good with the judges, who were Joe Jonas, Kelly Rowland, Boy George and Aussie pop star Delta Goodrem, but before chosing which team to join, he announced 'I've also made another decision'.
Related: Gay Marriage: From Forbidden Fruit to Law of the Land
He then called to get his partner of six years, Mitchell, brought onto the stage.
'I just wanted to bring you out here because we've had a beautiful six years together.'
'You've been a constant support, so I just wanted to ask you, will you marry me?'
To which Mitchell replied: 'Yes, of course'.
The proposal made the judges run up to the stage to congratulate the couple.
'That was so beautiful. I love an unexpected proposal,' said Boy George.
And Kelly even promised to sing 'When Love Takes Over' at the couples wedding.
Awww! Isn't love just beautiful?