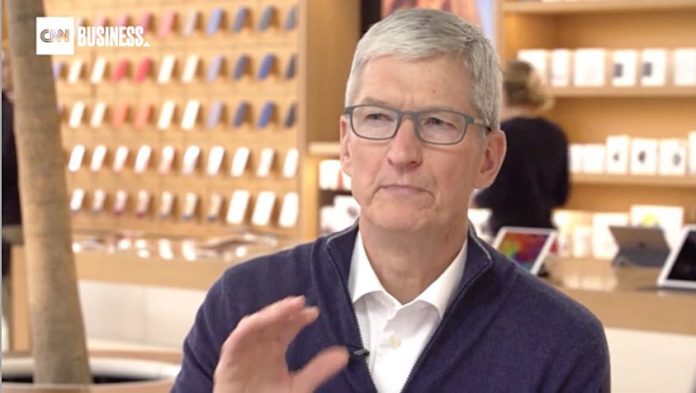 Apple's CEO Tim Cook says he's proud that he was the first CEO of a major company to come out as gay
"I'm very proud of it," Tim told Christiane Amanpour on Wednesday in an interview on CNN International. Being gay is "God's greatest gift to me," he said.
Tim came out on October 30, 2014.
"I was public because I started to receive stories from kids who read online that I was gay," he told Amanpour.
"I needed to do something for them."
Tim said he was shocked that he was the first openly gay CEO of a Fortune 500 company and that he wanted show gay kids that they "can be gay and still go on and do some big jobs in life."
Coming out has also helped the Apple CEO become a better leader.
"I learned what it was like to be a minority," Tim told CNN. "The feeling of being in a minority gives you a level of empathy for other people who are not in the majority."
Happy #Pride2017 to all our employees, their families and customers around the world! Today we're showing #applepride in SF, NYC and Toronto pic.twitter.com/ngM48Fy0Ws

— Tim Cook (@tim_cook) June 25, 2017
4:45pm · 3 Nov 2014
Russian iPhone monument gone after Apple CEO Tim Cook comes out. http://t.co/w9e0yOjcWY pic.twitter.com/bxT5wBn5Om

— Good Morning America (@GMA) November 3, 2014
Tim Cook comes out as 'proud to be gay' http://t.co/ZWLxg3XDUD (Pic: Reuters) pic.twitter.com/2zaNcExk0S

— The Telegraph (@Telegraph) October 30, 2014
Related: You Are Number 1
About Tim Cook
Timother Donald Cook was born November 1, 1960 in Mobile, Alabama, U.S.A. He currently resides in Palo Alto, California.
What is he famous for?
Tim Cook became the Chief Executive Officer of Apple after Steve Job's death in 2011. He joined Apple as Senior Vice President in 1998. He is credited with helping Apple achieve financial success by keeping manufacturing costs low and focusing on design and marketing. In 2007 Cook was promoted to Chief Operations Officer and made many day to day executive decisions while Jobs was on medical leave.
Since becoming CEO of Apple, Cook has become a vocal advocate for the political reformation of cybersecurity, surveillance, manufacturing laws and environmental conservation. He is on the board of directors for Nike and the National Football Foundation. He is an active supporter of the Democratic Party.
Is Tim Cook gay?
On October 30, 2014, Tim Cook became the first CEO of a Fortune 500 Company to come out publicly as gay. He did this through an editorial in Bloomberg Business. Although Cook is known for being private about his personal life he said he had been open about his sexuality for years.
In an appearance on "The Late Show With Stephen Colbert" in September 2015, Cook was asked what inspired him to come out publicly to which he responded, "Where I valued my privacy significantly, I felt that I was valuing it too far above what I could do for other people, so I wanted to tell everyone my truth".
Tim Cook's social media accounts:
Twitter: https://twitter.com/tim_cook
Related: How to Kick-Start Your New Life