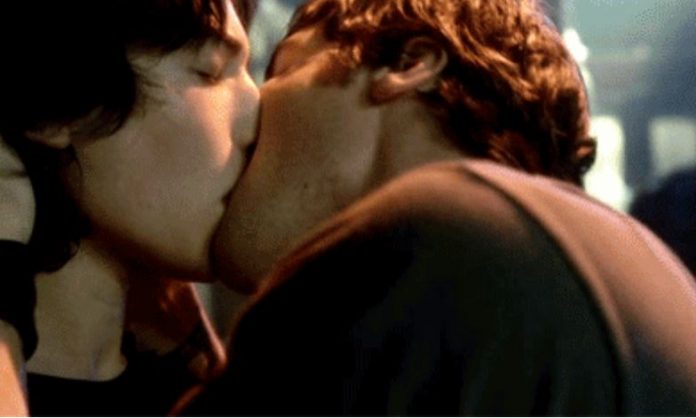 Fantastic Beasts star Ezra Miller reveals in a recent interview that he is part of a polyamorous group of lovers
The 26yo actor – who came out as queer in 2012 – tells Playboy that he is a "sexual being" that has found satisfaction in a squad he calls his "polyamorous molecule"— or "polycule" for short.
"I'm trying to find queer beings who understand me as a queer being off the bat, and I feel like I'm married to them 25 lifetimes ago. And then they are in the squad—the polycule," Ezra told Playboy.
Ezra's new movie Fantastic Beasts: Crimes of Grindelwald premiered on November 16th and immediately spurred a lot of buzz around a suggested romantic relationship between Jude Law's young Albus Dumbledore and Johnny Depp's Gellert Grindelwald.
J.K. Rowling has previously stated that she has always imagined Dumbledore to be gay and Ezra loves that the movie is pushing the issue further.
"I definitely started drawing conclusions about [the romance] from the time that we first started working on the first film," Ezra says. "Knowing that Jo, with that brilliant mind for the ambiguity of people—morally, in terms of how we classify them on a spectrum from good to evil—I knew that she would be interested in exploring."
Last year, Ezra melted our hearts as super sexy 'The Flash' and was the breakout star of 'Justice League'.
"As The Flash, Miller is quite simply a joy. His Barry Allen is young and innocent, thrown into a world of superheroes that he relishes with childlike wonder," wrote Metro.
"Justice League attempts exposition for the characters who have yet to appear in stand alone films – Flash, Aquaman, and Cyborg – but despite the lack of explanation for why and how Barry has become a human who can move at super speed, we do get to see his relationship with his father (Billy Crudup) and those short scenes allow us to understand Barry quicker, and understand why he would be so willing to say yes to Bruce Wayne before even being asked."



In July 2017, Ezra Miller kissed a fanboy at Comic Con
The 24-year-old actor was at Comic-Con to promote the new 'Justice League' movie. Ezra is the first gay actor to be cast as the lead in a huge superhero franchise.
Ezra had been explaining to a crowd of fans why 'The Flash' would have a hard time getting drunk, and a fan then asked jokingly to smell Ezra's breath.
Related: Gay Star Trek Romance Between Anthony Rapp and Wilson Cruz
The fan got way more than to smell Ezra's breath. He got a full-on kiss! All to the delight of the crowd, and to TMZ who managed to capture the moment.
https://twitter.com/kiwiezra/status/889198427711688704
Ezra identifies as queer and in an interview with Metro said he had never tried to hide his sexuality.
"I never thought about hiding anything about myself.
"When I was around 14, I was obsessed with Hunter S. Thompson. I must've seen Fear and Loathing in Las Vegas 500 times.
"Hunter created this public persona called Raoul Duke who was very different from himself and it tortured him… So I never wanted to set up a public persona who was different from who I was.
"Maybe it sounds cheesy, but I just wanted to realise my true self."
Sounds like a pretty good life philosophy to me, Ezra!
Related: Luke Evans Says Coming Out Gay Hasn't Hurt His Career
You can see a Comic-Con special edition trailer from the new movie below:
https://www.facebook.com/JusticeLeagueOfficial/videos/1469476799812796/
---
About Ezra Miller
Ezra Miller was born in Wyckoff, New Jersey, USA on 09/30/1992.

What is he famous for?
Ezra Miller is an actor and singer. He is best known for playing Barry Allen (The Flash) in the DC Extended Universe. He first appeared as Flash in Batman v Superman: Dawn of Justice (2016) and then in Justice League (2017). He also played Credence Barebone in Fantastic Beasts and Where to Find Them (2016).

Is Ezra Miller gay?
Ezra Miller came out as queer in August, 2012. He publicly defined his sexuality as "queer" in an interview with Out magazine. "I'm queer," he said. "I have a lot of really wonderful friends who are of very different sexes and genders. I am very much in love with no one in particular. I've been trying to figure out relationships, you know?"

Ezra Miller's Social Media accounts:
Instagram: https://instagram.com/imezramiller