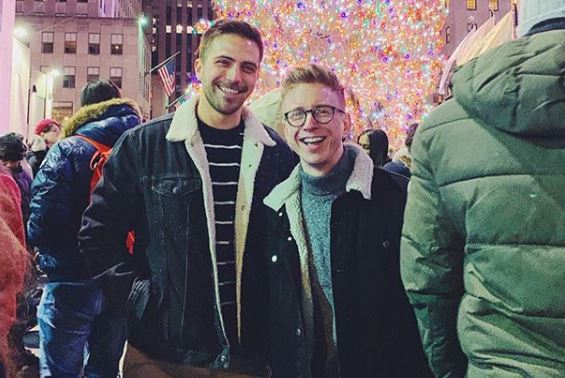 Gay influencer Tyler Oakley and his boyfriend Anthony Russo are showing their new love while admiring the Rockefeller Center Christmas tree
The couple met on dating app Bumble a few months ago, or at least that's what the social media super star claims. It's hard to say if it's true or not as Tyler does promote the app on his Instagram account.
Tyler has said that he always have loved the holiday season, but that celebrating it together with a partner makes it even more special.
"making the yuletide especially gay this year, with a little help from @russoao!! i've always loved the holiday season, but haven't had someone to share it with since college," Tyler wrote on Instagram earlier in December.
Related: Colton Haynes Lashes Back Against Coming-Out Criticism
About Tyler Oakley
Mathew Tyler Oakley was born March 22, 1989 in Jackson, Michigan, U.S.A. He currently lives in Los Angeles, California, U.S.A.
What is he famous for?
Oakley is YouTuber, activist and author. He is most famous as a social media influencer and for his work for LGBTQ+ youth, LGBT rights, health care, education, and the prevention of suicide among LGBT youth.
Is Tyler Oakley gay?
Oakley came out as gay to his mom at the age of 11, but suspects that his parents always knew he was gay.
His mom and stepfather were accepting; but his born-again Christian father and stepmom worked endlessly to make sure God was on his mind instead of other boys. "But I never bought any of it," Oakley says.
Oakley has also said that he wishes YouTube existed at the time because "the digital age makes you feel like less of a freak."
Tyler Oakley's social media accounts:
Twitter: https://twitter.com/tyleroakley
Instagram: https://instagram.com/tyleroakley
Facebook: https://facebook.com/thetyleroakley
YouTube: https://youtube.com/tyleroakley