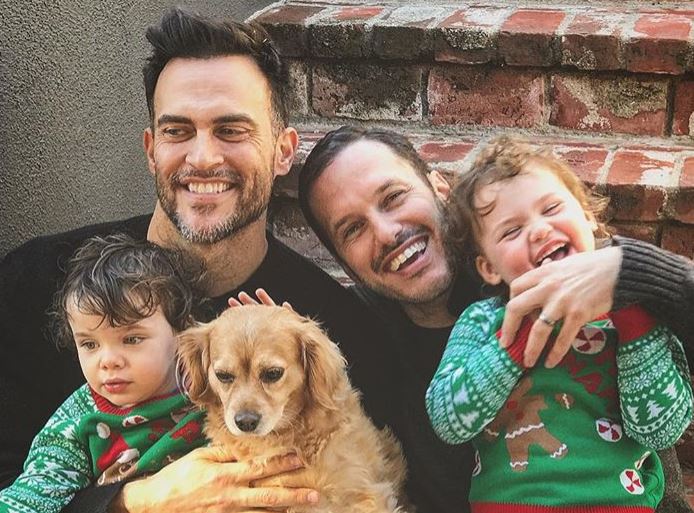 Gay actor and father of two Cheyenne Jackson urges gays to take better care of our health
The American Horror Story star is the spokesperson for Cigna, a global health service and insurance company that claims to be dedicated to helping people make healthier decisions
In a post/ad on Instagram, Cheyenne says "There's nothing more important to me than my family – whether it's eating healthy or spending lots of quality time outside, we're always showing Ethan and Willow ways to take care of our whole health.
"I have partnered with Cigna to remind the LGBTQ community that the body and mind are more connected than we think.
"The LGBTQ community is two and a half times more likely to experience depression, anxiety and substance misuse than the general population which can affect both your body and mind."
Cheyenne encourages the LGBTQ community to get their annual check-up, because "how you feel emotionally can affect you physically and vice versa."
Related: You Are Number 1
About Cheyenne Jackson
Cheyenne David Jackson was born July 12, 1975 in Spokane Washington, United States. He now lives in Los Angeles, California.
What is he famous for?
Jackson is an actor and singer with prominent roles on Broadway, film and television.
On Broadway, Jackson has had starring roles in productions such as "All Shook Up" (2005), Xanadu (2007), Finian's Rainbow (2010) and "The Performers" (2013), among others.
He appeared in the 2006 film, "United 93" and the 2014 rom-com "Mutual Friends". On television Jackson has had guest roles on "30 Rock", "Glee" and "American Horror Story".
Jackson has sold out Carnegie Hall for his concerts "The Power of Two" in 2010 and "Music of the Mad Men Era" in 2011.
Related: Gay Videos on Amazon Prime
Is Cheyenne Jackson gay?
Cheyenne Jackson grew up in a conservative Christian community and came out to his family as gay at the age of 19. His mother recalls his coming out as a "difficult time" but feels they have "weathered it well" and grown as a family.
Jackson began dating his husband Jason Landau in October 2013. The couple became fathers to twins in October 2016.
Cheyenne Jackson's social media accounts:
Twitter: https://twitter.com/cheyennejackson
Instagram: https://instagram.com/mrcheyennejackson
Related: Neil Patrick Harris' Family Rocks with Uncle Elton John