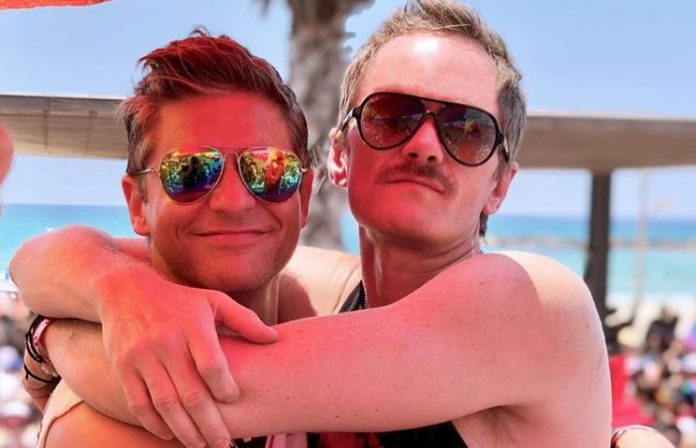 Gay actor Neil Patrick Harris just finished his duties as the international ambassador for this year's Tel Aviv's Gay Pride Parade
The actor arrived on Wednesday to headline Tel Aviv's annual celebration of its famous gay-friendly scene together with his husband, David Burtka.
"Pride. Love. Life. Thank you for having us as International Ambassadors #telavivpride, the outpouring of positivity was truly overwhelming. #grateful @dbelicious 🏳️‍🌈," Neil Patrick wrote on Instagram.
The "How I Met Your Mother" star is by many seen as something of a gay icon but says he doesn't see himself that way.
"I'm just a guy who is married to another guy and we have kids and we live our lives I would say as 'normally' as one would. But I think normal is a very subjective term, especially in the gay community," he told The Associated Press.
"I legitimately have no interest in being a representative or an ambassador for anything except my kids."
Related: Gay Videos on Amazon Prime
Neil Patrick's "normal life" includes hanging out with guncle Elton John, like the family did when they went to one of the pop icon's concerts in December last year.
The concert at New York's Madison Square Garden was the last stop on Elton John's farewell tour and was the first ever for the kids.
'We are beyond grateful to consider this artist and genius a friend. His husband is remarkable, his children divine. Thank you for the spectacular memories, good Sir', Neil Patrick Harris wrote on Instagram.
Neil Patrick, David and their twins, Gideon and Harper, were hanging out with Elton backstage before enjoying the concert with his husband, David Furnish.
The two families have been close for some time and went on holiday together to St Tropez earlier this year.
Related: Neil Patrick and David's Family Halloween Was Adorable
About Neil Patrick Harris
Neil Patrick Harris was born on June 15, 1973 in Albuquerque, New Mexico, U.S.A. He currently lives in Harlem, the Upper Manhattan neighborhood of New York City.
What is he famous for?
Harris is an actor, singer, writer and producer. He is known for playing the teen doctor, "Doogie Howser, MD" on the American sitcom of the same name. Harris is most famous for playing the role of Barney Stinson on the hit sitcom, "How I Met Your Mother".
Beyond TV, Harris has had success on the stage, winning the 2014 Tony Award for his lead role in "Hedwig and the Angry Inch" on Broadway. Harris has since hosted the Tony Awards four times, the Primetime Emmy Awards twice as well as the Academy Awards in 2014.
Is Neil Patrick Harris gay?
In Harris' 2014 memoire, "Choose Your Own Autobiography", Harris recounts years of telling people he was bisexual before coming out as gay in Hollywood.
Harris came out to the public as gay on November 4, 2006, saying, "I am happy to dispel any rumours or misconceptions and am quite proud to say that I am a very content gay man living my life to the fullest".
Harris is married to his long time partner David Burtka. The two are parents to twins, Harper and Gideon.
Neil Patrick Harris' social media accounts:
Twitter: https://twitter.com/ActuallyNPH
Instagram: https://www.instagram.com/nph/
Facebook: https://www.facebook.com/nph/