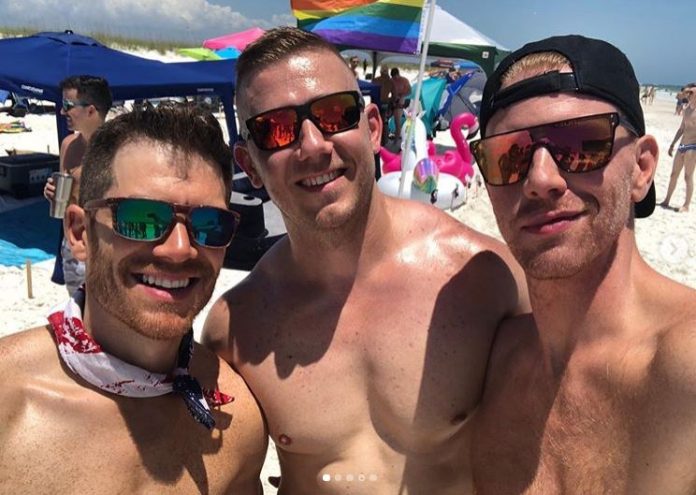 Actor Daniel Newman's Memorial Day Weekend was probably way gayer than yours
The 'Walking Dead' star spent the holiday surrounded by hot half naked men at the Portifino Island Resort on Pensacola Beach, Florida.
Daniel came out on social media in 2017 and in a moving YouTube video he talked about having had an eye-opening encounter with a fan at a homeless shelter for LGBTQ youth.
"This girl came up to me, and she was like, 'Thank you so much for helping out with the LGBT [community].' And she said it like she didn't deserve it," recalls Newman, "And I was like, 'Why?' and she said, 'Because you're straight.'…it hit me like a gut punch."
At the Glaad Awards early in May 2019, Daniel gave some good advice to young queer people.
"Find the strength inside yourself to just be honest, be out. It's crazy that you can have this idea that life is gonna suck afterward but then you realize it's just amazing," he said.
Wise words indeed, Daniel!
Related: 'Love, Simon' Actor Joey Pollari Comes Out as Gay
About Daniel Newman
Daniel Christopher Newman was born June 14, 1981 in Atlanta, Georgia, U.S.A. He moved to New York City after high school.
What is he famous for?
Newman is an actor, musician and model.
He has appeared in episodes of "Sex and The City", "Vampire Diaries", "Homeland", and "The Walking Dead".
His music appears on the Twilight film soundtrack and the soundtracks of several television series.
While living in New York City, Newman was featured as a model for brands such as Calvin Klein, Louis Vuitton and Tommy Hilfiger.
Is Daniel Newman gay?
Newman publicly came out as bisexual in March 2017 via Twitter and Instagram. He had been volunteering with LGBT youth shelters and realized that visibility is important. He works with GLAAD, My Friend's Place and Covenant House.
In a Twitter post Newman said, "Yes. Sexually I've done it all and loved it all. I do love girls too. I'm in an incredible relationship now though. #LGBTQ".
Daniel Newman's social media accounts:
Twitter: https://twitter.com/DanielNewman
Instagram: https://instagram.com/danielnewman_
Youtube: https://youtube.com/user/Reels2012/featured