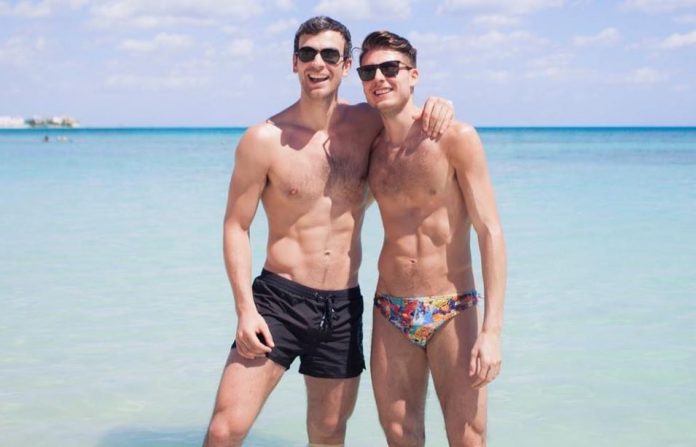 Canadian Eric Radford becomes the first openly gay man to win gold at the Winter Olympics
"I literally feel like I might explode with pride," Eric posted on Twitter after the event, which he won with skating partner Meagan Duhamel.
The duo skated to Adele's "Hometown Glory" on Sunday at Gangneung Ice Arena in Gangneung, South Korea.
"If you have the wrong piece of music and it doesn't connect with the audience or the judges, it doesn't really matter how great you skate," Radford, 33, told CBC Radio. "You're gonna be missing something."
Related: Gus Kisses Adam At The Olympics: "We're Queer"
This is amazing! I literally feel like I might explode with pride. #Olympics #outandproud #🏳️‍🌈 https://t.co/zzNd8ggHhE

— Eric Radford (@Rad85E) February 12, 2018
https://www.instagram.com/p/BfFW538BuW-
Radford also celebrated the achievement with Adam Rippon, Team USA's first openly gay Winter Olympian. Adam took home the bronze medal for the USA.
https://www.instagram.com/p/BfGGo7KhiiM
It's been a great last year for Eric. In June 2017, Eric proposed to his boyfriend Luis Fenero (he said yes):
"I've learned that the best things in life have a level of simplicity to them. I see it in art, I hear it in music and I feel it with this man. Loving him is simple and beautiful. The feeling of freedom and joy I had flying over the mountains is the same feeling I have when I think of life with @luis_febi …and I want to feel that forever so…
I asked him to marry me and he said yes!!"
https://www.instagram.com/p/BVKq3rEA3mj
https://www.instagram.com/p/BRRK1K8gXKA/
Related: Bi Pro Wrestler Anthony Bowens: Gay Label Is Ok
About Eric Radford
Eric Radford was born in Winnipeg, Canada on 12/27/1985. He is currently living in Montreal, Canada.
What is he famous for?
Eric Radford is an athlete. He is best known as a Canadian pair skater and for being the first openly gay man to win gold at the Winter Olympics. With partner Meagan Duhamel, he is a two-time world champion, an Olympic gold medalist in the team event, a two-time Four Continents champion, and a Grand Prix Final champion.
Is Eric Radford gay?
Yes, Eric Radford came out as gay in December, 2014. Eric was the first elite figure skater to come out publicly while still competing on the world stage.
He considered revealing his sexuality ahead of the Olympic Games in Sochi, but told Outsports that he was concerned that "I would be known as 'the gay athlete' if I came out at the Olympics, rather than Eric the medalling figure skater who happens to be gay."
"And I felt uncomfortable with that title," he continued.
But he came close; when a Canadian reporter asked him who was in Sochi to support him, he replied "Oh my family, some friends, and my boyfriend."
However, the reporter did not include the last piece in her report.
Eric Radford's Social Media accounts
Twitter: https://twitter.com/rad85e
Instagram: https://instagram.com/ericradford85
Facebook: https://facebook.com/DuhamelRadford