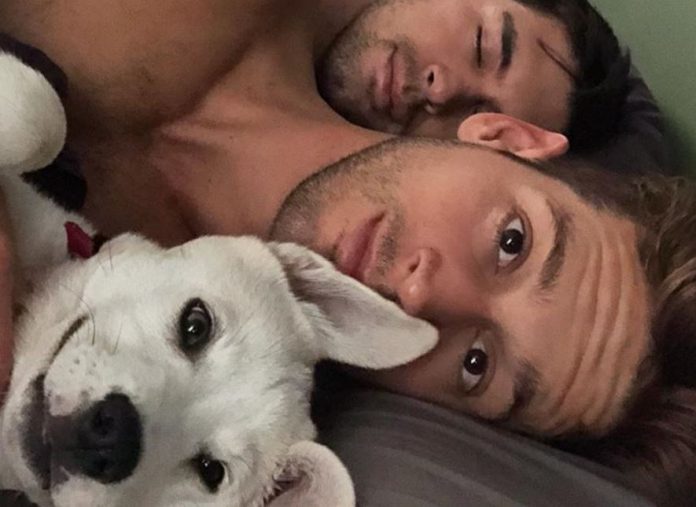 Gay Instagram star Max Emerson doesn't only have talent and looks. He also has the most adorable family.
Max, who is closing in on a million followers on Instagram, is a multi-talented guy and has directed and starred in several movies. He is also an author, a singer, and has had several small roles on major TV shows such as GLEE.
Max has posted many picures of his super cute puppy Sgt. Pupper – who even has his own Instagram account with more than 5,000 followers – and his super cute soldier boyfriend Andres Camilo.
And the picture he posted today of the whole family in bed together is just too cute for words. So have a look yourself instead.
Related: Top 5 Gay Love Videos on YouTube
About Max Emerson
Max Emerson was born in Vero Beach, Florida, USA on 09/07/1988.
What is he famous for?
Max Emerson is an actor, director, author, and youtuber. He is best known for for his modelling and social media profile, particularly on Instagram, and he wrote and directed the movie Hooked. He has appeared on TV in small roles, including the season 5 finale of Glee.
Is Max Emerson gay?
Yes. Max realized he was gay when he was in his early teens. He told Pride.com: "I was thirteen and watching porno when I realized I was staring at the guy. I thought, 'Man, high school is going to SUCK.'"
In his autobiography "Hot Sissy: Life Before Flashbulbs," Max writes about his teen years.
"It's a first person, present tense narrative that stumbles from ages fifteen to eighteen dealing with contemporary friendship, bullying, sexual identity, violence, drug abuse, awkwardly risky sex and other downright apocalyptic behavior. Through redneck parties, alternative schools and countless close calls with the police, Hot Sissy deals with the journey of seeking that fast fleeting sense of self-satisfaction and acceptance."
Max Emerson's Social Media accounts
Twitter: https://twitter.com/themaxisms
Instagram: https://instagram.com/maxisms
Facebook: https://facebook.com/MaxViciousEmerson
Related: Gay Skier Gus Kenworthy Makes Olympic Team