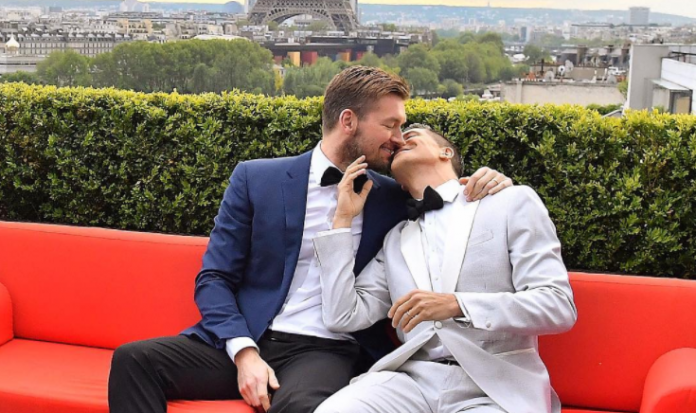 The 40-year-old real estate mogul and reality star is expecting twins with his husband Derek Kaplan
"We've been blessed two times over – we're six months pregnant with twins, a boy and a girl!" Fredrik posted on Instagram.
Fredrik also reveals that they are expecting a boy and a girl.
"It's the biggest thing that could ever happen to us," Fredrik tells PEOPLE magazine.
The baby news was revealed in the season finale of «Million Dollar Listing New York» on Thursday.
The couple has been expecting before but have suffered through several spontaneous abortions.
The surrogate mother is now supposedly six months on way.
Related: This Video About A Dad's Acceptance Of His Gay Daughter Will Move You
Fredrik is thanking for all the support and well wishes they have received on their path to parenthood:
"It was important for us to take the time to keep the news for ourselves, but now we are ready to celebrate all the love.
"We thank you for supporting us in this journey and your well wishes…. We are finally going to be dads! Finally! #grateful."
The couple received the news in April when Fredrik was celebrating his 40th birthday in Paris.
Fredrik has been open about the process the couple has been going through, including the abortions, in the TV show.
His husband Derek already has a seven year old son, Kai, the blessing result from donating sperm to a lesbian couple.
Fredrik's co-star Ryan Serhant took to Instagram to congratulate Fredrik on his big baby news:
"All of this just happened. What an episode. What a life. What a season! What friends!!! What co-workers. Huge congratulations…to my friend…Fredrik, on his big news. Emilia and I are so happy for you and Derek," Ryan shared.
"You will be incredible fathers."
I'm sure they will be. Congratulations!
Related: Are Your Fears Keeping You from Living a Gay Life?