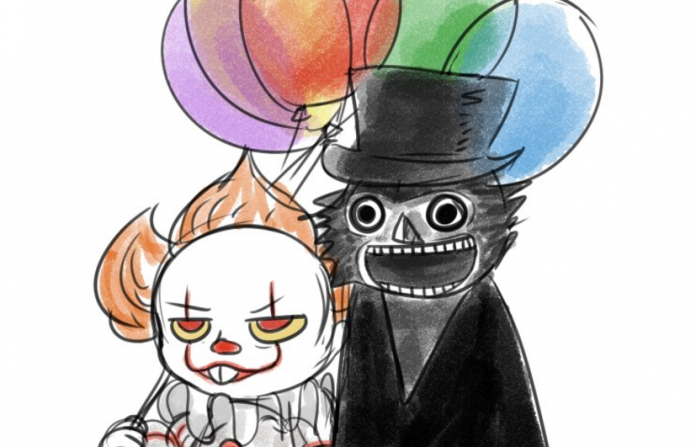 Twitter users are going crazy over the idea of the ultimate gay power couple, Pennywise the Clown and The Babadook
Pennywise is the super scary star of the recently released horror film, It, played by Swedish actor Bill Skarsgard.
It all began after Twitter @starkrhodey received some got some hate in his twitter box.
Related: Anti-Gay Politician Is Gay Kiss Tweet Bombed
A REPUBLICAN REALLY CAME INTO MY DMS BECAUSE I SHITPOSTED A PENNYWISE IS AN LGBT ALLY EDIT DNSNSND pic.twitter.com/hq4IyqNkZv

— poc sisters (@starkrhodey) September 11, 2017
Twitter user @starkrhodey posted about Pennywise supporting gay rights and was targeted by another Twitter user.
@starkrhodey clapped back with the phrase that started it all: 'pennywise and his boyfriend the babadook are offended by you sir.'
That was when the tweets and the fan art started, writes GayStarNews.
Pennywise and his boyfriend, The Babadook are off on a date to get crepes and terrorize some kids. pic.twitter.com/eakshrfkN7

— Kumi 🐨 (@kumivenarts) September 12, 2017
after a long ass day i'd like to nominate the babadook and pennywise be the parents of the lgbtq

— rico | #DefendDACA (@stxdiaxx) September 13, 2017
MONSTER LGBTQ ICONS #Pride #babadook #Pennywise #LGBTQ 💜💙💚💛🧡❤️💜💙💚💛🧡❤️ pic.twitter.com/psZPtUWwTW

— Marie Evangeline🌟 (@ghivasheI) September 12, 2017
Pennywise and the Babadook are engaged and want a nice Halloween wedding, who would've thought those two crazy kids would end up together

— May🌧 (@macnronii) September 12, 2017
PENNYWISE X BABADOOK

I WILL DIE DEFENDING THIS SHIP

— ✨ (@pistingyawa666) September 13, 2017
Thoroughly happy to see Pennywise and the Babadook come out as a strong LGBT power couple

— Cameron Babadook (@CookmeDaddy_) September 12, 2017
its official pennywise and the babadook are dating and gay icons https://t.co/cT7cKKMxKv

— 💎tmturd💎 (@_bap_zelo) September 13, 2017
Offering my body to pennywise so he can finish his sculpture in time for his boyfriend, the babadook's birthday

— joe (@DoctorGreenLove) September 12, 2017
Freddy and Jason is so last year it's all about pennywise and the babadook now

— 🕯 (@injustoneframe) September 13, 2017
I would love to attend a Pennywise/Babadook wedding. They'd make a cute couple.

— Sing a Song of Dawn (@Scar_LiT) September 12, 2017
pennywise and babadook my fave two lgbtq icons 😋☝️🏳️‍🌈

— ً (@curliereedus) September 12, 2017
Pennywise and the Babadook are my gay favas & they have raised me to become the gay I am today

— chanel #69 (@chanelcunt) September 12, 2017
PENNYWISE IS 1000% GAY! He and The Babadook are in a loving relationship, and are looking to adopt a devil child in the future

— Jaime 🇲🇽🇺🇸🏳️‍🌈 (@Xjaime1X) September 12, 2017
i only ship pennywise x the babadook from here on out

— sarah (@goinsvt) September 12, 2017
GOODNIGHT TO THE LGBT ICONS PENNYWISE THE CLOWN AND HIS LONG TERM BOYFRIEND THE BABADOOK, PROSPER QUEENS

— yuri (@serphantal) September 13, 2017
Related: 'Justice League' Star Ezra Miller Kisses Fanboy at Comic Con