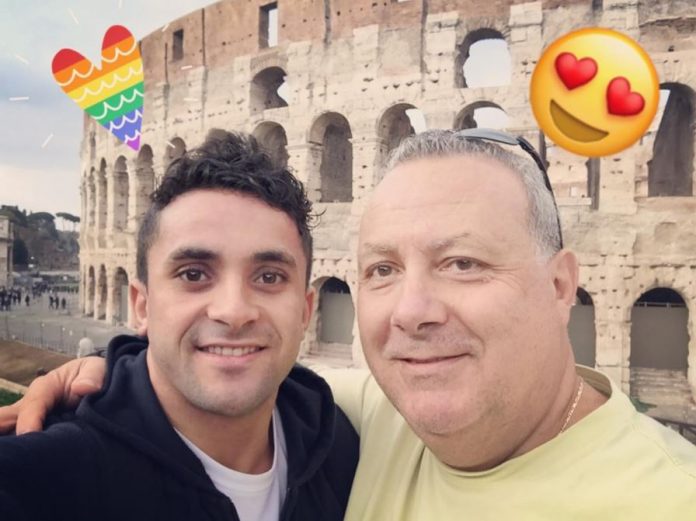 25-year-old former rugby star Sam Stanley reveals that he has just gotten engaged to a much older man.
Stanley became historic in August 2015 when he became the first British pro rugby player to come out as gay.
Now the hot athlete reveals that he has been in a hidden relationship with a man, Laurence Hicks, for seven years and that they are getting married!
Stanley writes on Instagram:
"After being a part of each others lives for almost 7 years, @lorenzo_uk has been my pretend godfather, uncle, cousin and many others in order to make sure no one found out about us and that we were a couple ? funny looking back after having come so far together. The most loving man I know and I'm incredibly happy to say we're now engaged?"
https://www.instagram.com/p/BTeLakejB4r/
Related: 78-Year-Old Vicar Marries 24-Year-Old Male Model
Sam Stanley tells Attitude that he and Hicks met on the gay dating site silverdaddies.com and that they quickly fell in love.
"I'd never had the feelings I felt for him before. It was pretty amazing and I'm incredibly lucky to have met him and call him my fiancè," he says.
"Laurence proposed to me on our top terrace in Sicily over Easter. The views up there are stunning and as he said at the time, what better place to do it than the place we'll be building a new life together. "
About the age-gap, Stanley says "I'm sure as everyone knows, you're not doing anything right if you're not getting criticised in this world. Laurence & I love each other and to us that's all that matters. We're proud to represent the many relationships like ours."
We wish the happy couple all the best! Here are some more posts from Stanley's Insta.
https://www.instagram.com/p/BHpeuU0h6a3/
https://www.instagram.com/p/BQfWhFshORs/
https://www.instagram.com/p/5NORoICJdi/
https://www.instagram.com/p/BOGL26MBt_2/
Related: World Champion Athlete Shawn Barber Comes Out as Gay