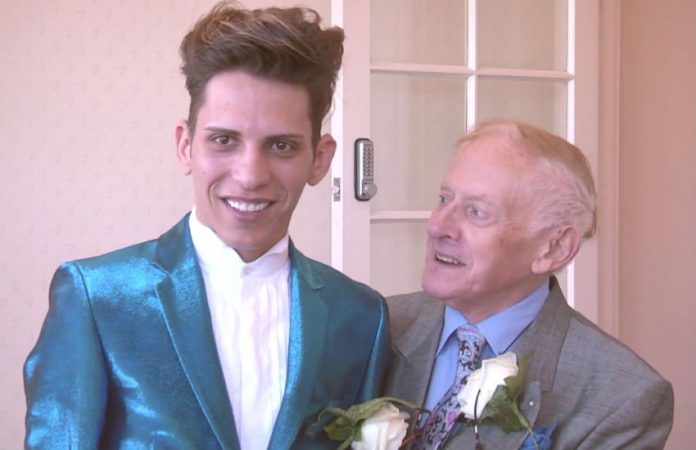 A 78-year-old former clergyman went against Church of England teachings by marrying 24-year-old boyfriend Florin Marin
According to former priest Philip Clements, who came out publicly in 2007, the Church of England's stance on gay marriage is idiotic.
Mr Clements said to Daily Mail: "It's only when I retired from full time ministry 18 years ago that I could express myself, decided I had to be my true self.
"I enjoyed my work as a priest and lost myself in my work. I knew what was happening inside me but threw myself into my work.
"I didn't let it worry me, but I realised something was nagging at me, I wanted more than I was having.
"I had some casual or brief relationships but not a sexual physical relationship as I knew the church's stance. I had friends – of both sexes – but not intimate ones.
"There was nothing serious until I met Florin nearly two years ago. I was looking for somebody to have a close relationship with as this is what I wanted.
"I think it's unnatural to keep denying it."
Related: I'm Struggling With Being Christian & Gay
The couple married at the Ramsgate Registry Office on April 25 in front of two witnesses and TV crews.
Church of England clergy can enter into civil partnerships but same-sex marriage is not permitted.
"Is it a dream? It's a special day," Clements said after the ceremony.
In a Facebook post, Clements wrote: "My hope is that Florin and I are giving encouragement to gay Anglican clergy who want to enter into a closer union with same sex partners. It can only enrich ministry.
"I hope too that the Church of England may be moved to acknowledge the worth and validity of such telationdhips for the clergy who may be stressed and frustrated by present restrictions on their personal lives."
Related: Gay Marriage: From Forbidden Fruit to Law of the Land