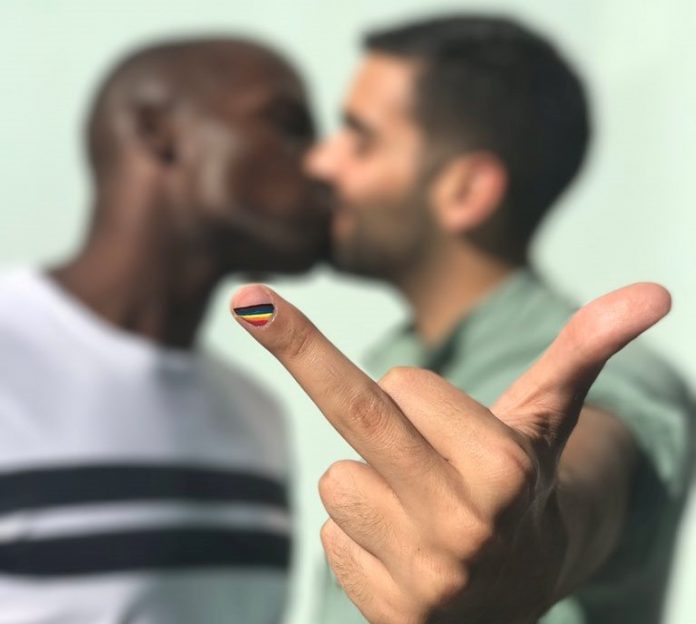 'Teen Vogue' editor Phillip Picardi posts golden tweet storm after right-wing christian nutjobs attack the magazine
Last week, 'Teen Vogue' published an exhaustive health-oriented guide to safe anal sex, which quite predictively infuriated the right.
Among those that were shocked and appalled over the sex ed piece was "The Activist Mommy," who posted a video of herself burning the magazine while decrying that the editors' brains are "in the gutter."
The fact that the article was never printed in the magazine but only posted online didn't exactly make the magazine burning any less ridiculous.
https://www.facebook.com/theactivistmommy/videos/1344466902338122/
Christian site The Stream, published a story with this awesome headline: "The Predator in the Fashion Magazine: Teen Vogue Coaches Teenagers in Sodomy."
"Wake up, Moms and Dads! A magazine produced for your teenage daughters is giving them explicit instructions on how to be sodomized," they wrote.
"It is teaching them to be used by a guy, in a very dangerous way, for his pleasure and satisfaction. It is giving the clear message to every teenage boy that it's perfectly acceptable to sodomize a girl, to use her, even physically hurt her for the sake of an orgasm.
"It is glorifying as good, normal and healthy, the harmful practice of homosexual sex."
Related: I'm Struggling With Being Christian & Gay
One of Teen Vogue's editors, gay Digital Editorial Director Phillip Picardi, just posted a Tweet storm about the controversy, and it's gold:
If it's ok with you guys, I'm gonna TALK ABOUT ANAL SEX FOR A WEE LIL THREAD.

— pfpicardi (@pfpicardi) July 14, 2017
We published a 411 on Anal Sex story on @TeenVogue as a continued part of our sex education coverage.

— pfpicardi (@pfpicardi) July 14, 2017
I monitor the webmaster email and have been inundated with hate mail saying we promote sodomy and want teens to get AIDS.

— pfpicardi (@pfpicardi) July 14, 2017
It's funny, because I went to Catholic high school and had 0 sex education. I also had a teacher tell me gay sex was a sin in God's eyes.

— pfpicardi (@pfpicardi) July 14, 2017
Fast forward to frosh year of NYU, me crying at Callen-Lorde Community Health Center, bc I'd just slept w someone who I found out was HIV+.

— pfpicardi (@pfpicardi) July 14, 2017
The kind folks at Callen-Lorde taught me about HIV/AIDS, what it is, and how it's contracted. They also told me to get tested regularly.

— pfpicardi (@pfpicardi) July 14, 2017
They also explained the concept of HIV stigma, and that HIV and AIDS are two different things. And that HIV is not a death sentence.

— pfpicardi (@pfpicardi) July 14, 2017
Then they taught me the importance of safer sex, and what I needed to know in particular as a gay man.

— pfpicardi (@pfpicardi) July 14, 2017
I left a 40-minute doctor's appointment with more life-saving information than I ever received in all my years of private school education.

— pfpicardi (@pfpicardi) July 14, 2017
You see, my Catholic school was guilty of endangering all of us by sheer omission of FACTS. EDUCATION doesn't equal ENCOURAGEMENT.

— pfpicardi (@pfpicardi) July 14, 2017
Multiple studies have shown abstinence-only sex-ed is linked to higher rates of STIs and teen pregnancies.

— pfpicardi (@pfpicardi) July 14, 2017
TBH, it is IRRESPONSIBLE. How can you possibly expect teenagers to practice safe sex if they don't know what's at risk?

— pfpicardi (@pfpicardi) July 14, 2017
How can you expect young women to not get pregnant without access to reproductive health care?

— pfpicardi (@pfpicardi) July 14, 2017
The backlash to this article is rooted in homophobia. It's also laced in arcane delusion about what it means to be a young person today.

— pfpicardi (@pfpicardi) July 14, 2017
If I had today's @TeenVogue and @VeraPapisova when I was a teen, I would have been so much safer and better off.

— pfpicardi (@pfpicardi) July 14, 2017
Instead, I made mistakes that consisted of quite a few doctor's appointments! But I'm ok!!

— pfpicardi (@pfpicardi) July 14, 2017
But until queer sex, love, and families are included in education, we're doing a dangerous and potentially lethal disservice…

— pfpicardi (@pfpicardi) July 14, 2017
to a growing population. Gen Z will be our queerest and most fearless generation yet.

— pfpicardi (@pfpicardi) July 14, 2017
In conclusion, here's my only reply I'll be giving to any of the messages. 🌈 pic.twitter.com/KiFjVqLlH3

— pfpicardi (@pfpicardi) July 14, 2017