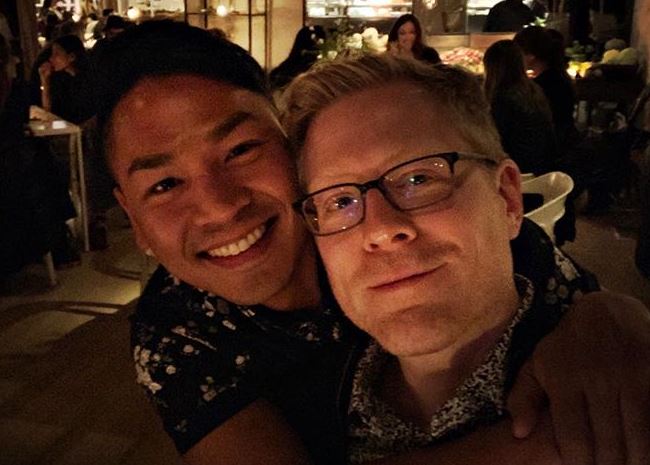 Gay Star Trek star Anthony Rapp just celebrated 3 year anniversary with his boyfriend Ken Ithiphol
Anthony celebrated the event by bringing his boyfriend to the premiere of the new season of his CBS SciFi series Star Trek Discovery.
At the premiere, Anthony talked to the press about his decision to come forward with sexual misconduct allegations against Hollywood mega star Kevin Spacey.
In 2017, Anthony accused the House of Cards star of having made unwanted sexual advances at him during a party at Spacey's house in 1986 when Anthony was just 14 years old.
Anthony said he came forward with his story because he feared assaults could "keep happening" if he said nothing.
He is proud he had the courage to tell the story and hopes his contribution helps 'change the culture'.
"I know that it's something that needs continued movement forward and I'm going to keep doing my best to be a part of the movement forward," Anthony said.
Kevin Spacey claims he does not remember such an encounter to have taken place but that he apologizes if the allegations are true.
Related: Gay Star Trek Romance Between Anthony Rapp and Wilson Cruz
About Anthony Rapp
Anthony Deane Rapp was born October 26, 1971 in Chicago, Illinois, U.S.A. He attended high school in Joliet, Illinois.
What is he famous for?
Rapp is an actor and singer who came into fame for playing the role of Mark Cohen in the original Broadway production of "Rent" in 1996. He also played the role in the film version.
He has continued to achieve success on Broadway, performing the role of Charlie Brown in the 1999 production of "You're A Good Man, Charlie Brown" and the role of Lucas in "If/Then".
In 2016, Rapp was cast as Lieutenant Paul Stamets in the television series "Star Trek: Discovery".
Is Anthony Rapp gay?
Anthony Rapp identifies as queer and came out to his mother at the age of 18. She became comfortable with her son's sexuality by her death in 1997.
In an interview with Oasis Magazine in 1997, Rapp explained that he is adverse to labels and although he considers himself primarily homosexual, he has also been in love with women.
Anthony Rapp's social media accounts:
Twitter: https://twitter.com/albinokid
Instagram: https://instagram.com/albinokid1026
Related: Furious Reactions to Kevin Spacey Coming Out as Gay