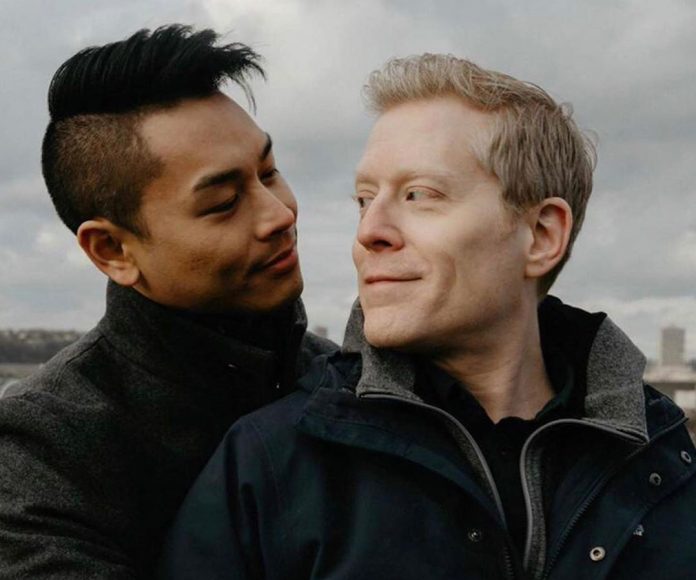 Star Trek actor Anthony Rapp proposed to his boyfriend Ken Ithiphol in November and now they've just published their engagement photos
"As you know, I'm marrying this wonderful, beautiful man. Thank you @colagrossico for taking such good care of us on our engagement shoot," Anthony writes in a post on Instagram.
The photographers Mitch and Savanna Colagrossi were touched by the beautiful love between the two men.
"Behind the photos was Anthony breaking out into random song (the best kind), many laughs and meaningful, heartfelt kisses. They have a passion that even we were only able to capture a glimpse of, as their love is so much more genuine and intense than what can be documented through photography alone," Savanna writes on the photographer's web site.
"Anthony and Ken both have such a sweet, funny, affectionate nature between the two of them. I think maybe that was our biggest takeaway from our time with them. To hell with constraint, with hiding emotions for the sake of social niceties. Ken and Anthony are who they want to be with each other, unapologetically, and we admire that beyond words."
Ken and Anthony have been dating since 2016 and Anthony got down on one knee and asked Ken to marry him in front of friends at a party in Toronto, Canada.
They have not yet publicly announced the date for their wedding.
Promo: Gay Magazine Discounts
Anthony celebrated the couple's 3 year anniversary in January, 2019 by bringing Ken to the premiere of the new season of his CBS SciFi series Star Trek Discovery.
At the premiere, Anthony talked to the press about his decision to come forward with sexual misconduct allegations against Hollywood mega star Kevin Spacey.
In 2017, Anthony accused the House of Cards star of having made unwanted sexual advances at him during a party at Spacey's house in 1986 when Anthony was just 14 years old.
Anthony said he came forward with his story because he feared assaults could "keep happening" if he said nothing.
He is proud he had the courage to tell the story and hopes his contribution helps 'change the culture'.
"I know that it's something that needs continued movement forward and I'm going to keep doing my best to be a part of the movement forward," Anthony said.
Kevin Spacey claims he does not remember such an encounter to have taken place but that he apologizes if the allegations are true.
Related: Gay Star Trek Romance Between Anthony Rapp and Wilson Cruz
About Anthony Rapp
Anthony Deane Rapp was born October 26, 1971 in Chicago, Illinois, U.S.A. He attended high school in Joliet, Illinois.
What is he famous for?
Rapp is an actor and singer who came into fame for playing the role of Mark Cohen in the original Broadway production of "Rent" in 1996. He also played the role in the film version.
He has continued to achieve success on Broadway, performing the role of Charlie Brown in the 1999 production of "You're A Good Man, Charlie Brown" and the role of Lucas in "If/Then".
In 2016, Rapp was cast as Lieutenant Paul Stamets in the television series "Star Trek: Discovery".
Is Anthony Rapp gay?
Anthony Rapp identifies as queer and came out to his mother at the age of 18. She became comfortable with her son's sexuality by her death in 1997.
In an interview with Oasis Magazine in 1997, Rapp explained that he is adverse to labels and although he considers himself primarily homosexual, he has also been in love with women.
In November 2019, Rapp got engaged to his longtime boyfriend Ken Ithiphol.
Anthony Rapp's social media accounts:
Twitter: https://twitter.com/albinokid
Instagram: https://instagram.com/albinokid1026
Related: Furious Reactions to Kevin Spacey Coming Out as Gay