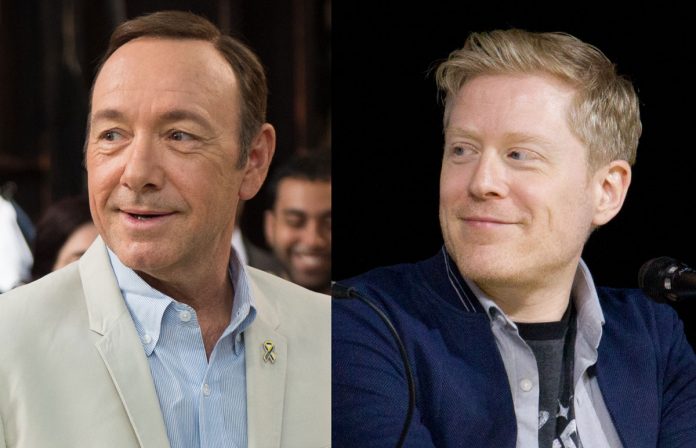 Actor Kevin Spacey has come out of the closet after Star Trek star Anthony Rapp accused the Oscar winner of making a sexual advance on him when he was 14
In an interview with Buzzfeed, Rapp, now aged 46, says the incident occured during a party at Spacey's home in 1986. Spacey was 26 at the time.
Rapp attended the party alone and didn't know anybody there. He got bored and went into a bedroom to watch TV.
Rapp said: "My memory was that I thought, Oh, everybody's gone. Well, yeah, I should probably go home.
"[Spacey] sort of stood in the doorway, kind of swaying. My impression when he came in the room was that he was drunk…He picked me up like a groom picks up the bride over the threshold. But I don't, like, squirm away initially, because I'm like, 'What's going on?' And then he lays down on top of me."
"He was trying to seduce me," Rapp added. "I don't know if I would have used that language. But I was aware that he was trying to get with me sexually."
Rapp said he managed to "squirm" away from Spacey and escaped to a bathroom. "I was like, 'What is happening?'
"I saw on the counter next to the sink a picture of him having his arm around a man. So I think on some level I was like, 'Oh. He's gay'. I guess. Then I opened the door, and I was like, 'OK, I'm going to go home now.'
"He followed me to the front door of the apartment, and as I opened the door to leave, he was leaning on the front door[frame]. And he was like, 'Are you sure you wanna go?' I said, 'Yes, good night,' and then I did leave."



Spacey tweeted a response to Rapp's allegations, writing that he was "beyond horrified to hear [Rapp's] story."
"I honestly do not remember the encounter, it would have been over 30 years ago.
"But if I did behave then as he describes, I owe him the sincerest apology for what would have been deeply inappropriate drunken behavior, and I am sorry for the feelings he describes having carried with him all these years."
Related: Gay Community Selfish to Ask Athletes to Come Out
Spacey, who's sexuality has been the worst kept secret in Hollywood for decades, said that he now lives as a gay man. Which is his first statement about his sexual orientation.
"This story has encouraged me to address other things about my life," Spacey said in his tweet. "As those closest to me know, in my life I have had relationships to both men and women. I have loved and had romantic encounters with men throughout my life, and I choose now to live as a gay man."
— Kevin Spacey (@KevinSpacey) October 30, 2017
Spacey's choice to come out in response to Rapp's accusation has received furious responses from celebrities and others.
"Nope to Kevin Spacey's statement. Nope," tweeted Dan Savage, the "Savage Love" columnist. "There's no amount of drunk or closeted that excuses or explains away assaulting a 14-year-old child."
Nope to Kevin Spacey's statement. Nope. There's no amount of drunk or closeted that excuses or explains away assaulting a 14-year-old child.

— Dan Savage (@fakedansavage) October 30, 2017
Ashlee Marie Preston, writer and activist tweeted: "I'm not interested in Kevin Spacey being gay. I'm curious as to why we're conflating sexuality w/ the molestation of a minor. Stay on topic."
https://twitter.com/AshleeMPreston/status/924893723153940480
"It is deeply sad and troubling that this is how Kevin Spacey has chosen to come out," tweets Star Trek actor Zachary Quinto. "Not by standing up as a point of pride — in the light of all his many awards and accomplishments — thus inspiring tens of thousands of struggling LGBTQ kids around the world. But as a calculated manipulation to deflect attention from the very most serious accusation that he attempted to molest one."
— Zachary Quinto (@ZacharyQuinto) October 30, 2017
https://www.instagram.com/p/Ba4Uq5WFgY1/
Related: Gay Star Trek Romance Between Anthony Rapp and Wilson Cruz
Meanwhile, here's a beautiful picture of Anthony Rapp with his boyfriend Ken:
https://www.instagram.com/p/BRjb9DRBkG3/