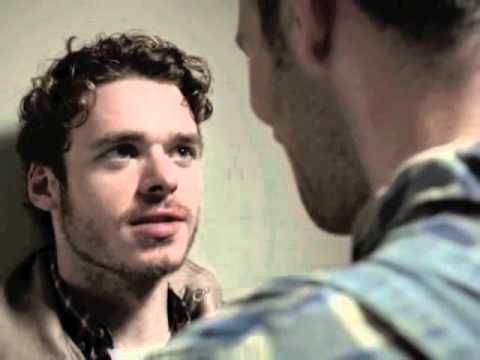 Is there a galactic gay romance between "13 Reasons Why" star Brandon Flynn and "Game of Thrones" star Richard Madden?
Brandon and Richard have known each other since at least November 2018, when photos of them surfaced from a party.
Richard broke up with his girlfriend before Christmas and he and Brandon have appeared at several social occasions after that.
In March, paparazzis snapped a picture of Richard walking Brandon's dog in LA and according to an article Richard is "crashing" with Brandon in LA while Richard looks for work in Hollywood.
Brandon also recently visited Richard in London where they were spotted watching a play together.
Last week, the two hunks were spotted strolling down the street in LA with their arms around each other.
Allegedly, Brandon has a Spotify play list of love songs titled "Richard" and sometime in February, Brandon's famous ex, pop star Sam Smith, unfollowed Richard on Instagram.
Related: Elton John Got a Hot Man Greeting for His Birthday
About Brandon Flynn
Brandon Paul Flynn was born October 11, 1993 in Miami, Florida, U.S.A. He now lives in New York City.
What is he famous for?
Flynn is an actor best known for playing the role of Justin Foley in the Netflix drama, "13 Reasons Why".
Before "13 Reasons Why", Flynn had acted in the off-broadway production of "Kid Victory" as well as several other plays, commercials and films.
Flynn was cast for the recurring role of Ryan Peters in season three of HBO's "True Detective".
Related: Gay Videos on Amazon Prime
Is Brandon Flynn gay?
On September 17, 2017 Brandon Flynn published a post on Instagram that many consider to be an official coming out as gay to the public. Flynn was inspired by a skywriter's message over Sydney, Australia to vote no for the legalization of gay marriage. Flynn's angry post identified himself as part of the LGBT community. Since then Flynn has been vocal about LGBT issues on social media.
He was dating the singer Sam Smith for 9 months in 2017.
Brandon Flynn's social media accounts:
Twitter: https://twitter.com/brandonflynn
Instagram: https://instagram.com/flynnagin11
Related: Sam Smith: I Feel Just as Much a Woman as I Do a Man