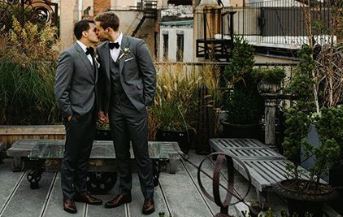 Sexy and talented gay actor Dan Amboyer moves back to theatre and is making his directorial debut
Dan is best known for his roles in Younger and William & Catherine: A Royal Romance, but he's real love lays with the theatre and he has always been a theatre nut.
"As a kid, I was obsessed with the Toronto sit-down production of Phantom [of the Opera]. I geeked over Colm Wilkinson and Rebecca Caine," Dan says in an interview with Playbill magazine.
"I created some colored pencil "phan" art for them, huddled outside their stage door in a blizzard, and then actually got invited in for a backstage tour by Rebecca. I was in awe."
Dan is currently directing his first play; the Off-Broadway eco comedy Whirlwind.
Whirlwind tells the complicated love story about a relationship between a plant manager and a wildlife advocate. The play runs from January 23to February 10, 2019.
Back in March, 2018, Dan witnessed a horrible homophobic attack on the subway in New York and urged witnesses to contact the NYPD so that the low-life criminal could be arrested.
Dan wrote on Twitter: "Repost please. Marissa Lesch and I just witnessed this horrible man attack two 17 year old girls on our subway car—punched them, spit on them—and yelled racial and homophobic slurs. He then ran away. Was heading uptown on the A from West 4th. Help NYPD find him."
Dan, who celebrated his 10 years anniversary with his husband Eric P. Berger in February 2018, publicly came out as gay after their marriage.
https://www.instagram.com/p/Be_g1dxn0on/
The couple married in front of family and friends on October 7, 2017 in New York City.
"Being a young actor in the industry, I had a lot of people who strongly advised me to stay quiet," Dan told People.
"That was hard to live with. But I've never played a gay role before and I didn't want to be limited by some strange perception."
https://www.instagram.com/p/BZ-mA3kHHnM/
"There are some actors out there now who just keep it as an unspoken aspect of their life and never discuss it in public. But then there are men like Matt Bomer and Zachary Quinto. I look up to them and see how them being so open affected other people and the country's perception of gay people. And Nico Tortorella, who is also on Younger, has inspired me by the way he's become such an advocate for sexual fluidity. I think the more open actors can be the less stigma there will be attached, which will be a positive thing moving forward," he said.
Related: 'Younger' Actor Nico Tortorella Is a Proud Bisexual
https://www.instagram.com/p/BZ_7p4KHPDp/
"I want to live my life moving forward with integrity and pride," Dan told People. "We might start a family one day and I would feel so strangely if I didn't celebrate that with all of my family and friends and share that with the fans. This is just the beginning of a wonderful future."
Eric said that he has accepted Dan's choice of not coming out earlier both as "a personal decision and a business decision", and that he has never wanted to push him to come out.
The wedding took place at New York's Marble Collegiate Church and was attended by family and friends, among them Tony winner Patina Miller, Paloma Guzman and 'Younger' creator/producer Darren Star.
Related: 'Heroes' Actor Thomas Dekker Comes Out As Gay
About Dan Amboyer
Dan Amboyer was born in Detroit, Michigan, USA on 12/28/1995.
What is he famous for?
Dan Amboyer is an actor. He is best known for best known for his starring role as Prince William of Wales in the 2011 Hallmark Channel original film William & Catherine: A Royal Romance, and for his role in The Blacklist Redemption and in Younger.
Related: Gay Videos on Amazon Prime
Is Dan Amboyer gay?
Dan Amboyer came out as gay in October, 2017. In an interview with People magazine, he explained that it was his recent marriage to boyfriend Eric Beric that fueled his desire to be more open.
"I want to live my life moving forward with integrity and pride," he said. "We might start a family one day and I would feel so strangely if I didn't celebrate that with all of my family and friends and share that with the fans. This is just the beginning of a wonderful future."
Amboyer also said he got a lot of advice from industry insiders to stay closeted. "That was hard to live with," he said. "But I've never played a gay role before and I didn't want to be limited by some strange perception.""
Dan Amboyer's Social Media accounts:
Twitter: https://twitter.com/danamboyer
Instagram: https://instagram.com/danamboyer
Facebook: https://facebook.com/damboyer